"In our stressed world, wellness tourism is, says Lonely Planet, the industry's fastest growing sector with a 10% rise [in 2018] making it a plus $500bn market" (The Yucatan Times, 2018).  According to the Global Wellness Institute, the global wellness economy was a $4.5 trillion market in 2018, while in 2017 travellers made 830 million international and domestic wellness trips, representing 17 percent of all tourism expenditures.
There are inherent difficulties, however, in defining what wellbeing tourism actually is and what it encompasses – it is apparent that 'wellness' and wellbeing' are often used interchangeably.  The Global Wellness Institute defines wellness tourism as "travel associated with the pursuit of maintaining or enhancing one's personal wellbeing", but that may not paint a complete picture. The UK-based Coastal Tourism Academy suggests that wellness tourists can be segmented into those for whom wellbeing is their primary motivation and those who simply "seek to maintain a healthy lifestyle while taking any type of trip".
In order to help shape and steer the DETOUR project, in June 2020 the partners undertook a short wellbeing tourism survey. The objective was to better understand the wellbeing tourism sector from a destination, regional and business perspective, with the survey being sent out to businesses and other stakeholders in Ireland, Scotland, Iceland, Slovenia and the Azores.  Fifty-six responses were received.
One of the questions asked: What is your understanding of the term wellbeing tourism? It is clear from the responses that wellbeing tourism means very different things to different people.  While respondents suggested that elements of 'slowing down', 'taking time', 'escape', 'nutritional balance' and 'self-development' may be important considerations, the most commonly cited components were:
Environmental awareness/being in nature
Physical wellbeing
Emotional and mental wellbeing
Relaxation/rejuvenation
Taking an academic perspective, Smith and Diekmann (2017) propose a model for an optimum form of wellbeing tourism. This incorporates elements that: a) enable consumers to experience intrinsic motivations such as pleasure, b) have a more altruistic component that benefits other people, environments or communities, and c) create a sense of meaning for participants, contributing, for example, to their self-development  They recognise, however, it is unlikely that most wellbeing tourism experiences will encapsulate all three  components.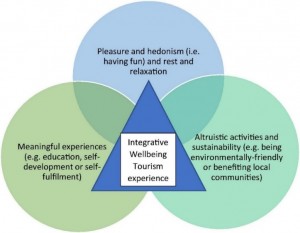 Of course, the whole notion of wellbeing, physiological and psychological, has taken on new meaning as people readjust to and try to cope with life during COVID-19.  As the tourism industry in many countries is starting to move into a post-pandemic recovery phase, the near future will undoubtedly see a readjustment of what wellbeing tourism looks like,.  For example, will the need to maintain social distancing mean that the more hands-on approach of many traditional 'wellness' products gives way to activities where keeping your distance is not only possible but intrinsic to the experience?  Forest bathing, for example, takes place in settings more conducive to this new sociality, and such mindfulness practice may help people to cope with greater isolation and stress.
This short blog post does not seek to proffer a definitive meaning, but rather to draw attention to differing perceptions of wellbeing and to outline some of the key components of wellbeing as drawn from industry practitioners in the DETOUR survey. Their responses suggest that  at its core, wellbeing tourism incorporates activities that have positive spiritual, physical and/or mental wellbeing effects, and that nourish and rejuvenate people in a calm and relaxing, often natural, environment.  Or, as the Coastal Tourism Academy states, is it simply that at its heart wellness is just about 'feeling better'?
Dr Steve Taylor
Centre for Recreation and Tourism Research
Scotland
July 2020
References:
https://coastaltourismacademy.co.uk/uploads/Health_and_Wellness.pdf
https://globalwellnessinstitute.org/what-is-wellness/what-is-wellness-tourism/
Smith, M. K., & Diekmann, A. (2017). Tourism and wellbeing. Annals of Tourism Research, 66, 1-13. https://doi.org/10.1016/j.annals.2017.05.006
https://www.theyucatantimes.com/2018/01/wellness-tourism-is-fastest-growing-travel-sector-lonely-planet/