Ireland Is Famous for Its Wellbeing Nutrition and Food Experiences
---
In this article we talk about how Ireland incorporates wellbeing tourism through its unique wellbeing food and nutrition resources. Some examples are provide but a more conclusive report is provided in the DETOUR Regional Audit of Ireland. You will gain a deeper understanding and awareness from an Irish perspective of how to incorporate food and nutrition as a high yield and fantastic tourism wellbeing experience opportunity. In the same section you will see a similar Audit for Iceland, Azores, Slovenia and Scotland
Global Wellness Institute (GWI) examined 10 sectors with the healthy eating and nutrition market in the top list which was worth another $647bn. Especially when often combined with the growing fitness and mind-body market which was worth $542bn. More and more people are rediscovering food as more than sustenance but as central to your own health and conversations with those around you. Nutrition wellbeing experiences options in Ireland are freshly prepared, nourishing and a range of dietary requirements can be catered for. Many include courses, fitness, detoxing, yoga and other outdoor activities for a holistic wellbeing experience. How encompassing food wellbeing can increase the benefits to your body, mind and soul.
---
Creacon Wellness Retreat, Wexford set in the rolling green hills is an award-winning destination for yoga and meditation breaks as well as general self-care, relaxation and rejuvenation. It offers all sorts of services to revitalize mind, body and spirit, from facials to massage, acupuncture, psychotherapy or daily yoga and mindfulness classes. It has a café is open daily, offering cold-pressed juices and healthy meals and has a famous three-day juice cleanse. The Overnight Escape package includes meals from its Food is Medicine menu.
---
LifeCleanse, Dublin detox and nutrition retreats by the sea at Brittas Bay. LifeCleanse provides a mix of yoga, mindfulness, vegan wholefood meals and beach walks. It includes a hands-on demonstration of founder Maria Donlon's LifeCleanse recipes, including how to make your own guilt-free treats and take-home tips to help you carry on the benefits when you go home.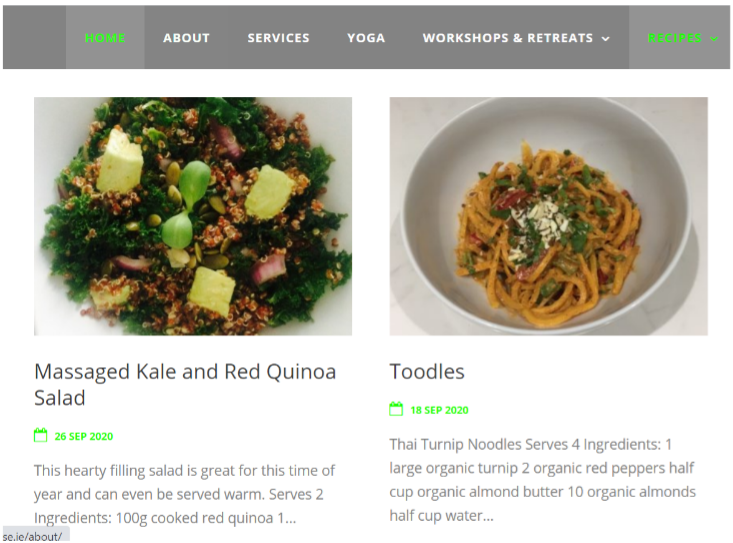 LifeCleanse, Sample Lunches
---
Deluxe Detox: Monart, Wexford is a popular five-day detox programme, which strictly forbids alcohol, caffeine and sugar. Days are filled with a mix of high-octane classes such as piloxing and boxercise, luxurious treatments such as mud wraps and reflexology, and delicious calorie-counted menus. The programme, tailor-made to each individual, is designed to reach your ideal weight and improve fitness backed up with Caroline Monart's personal encouragements. Known as one of the world's leading destination spas, this is the ultimate five-star detox.