DETOUR Regional Well-Being Development Resource Packs
(3 Free to Download)
Wellness tourism is an undeniable emerging tourism sector with evident global scale and far-reaching economic impacts. Most importantly the awareness and demand for wellness tourism have risen dramatically particularly in recent Covid-19 events.
Wellness tourism is a global phenomenon of the 21st century. Millions of tourists travel to destinations all over the world every day, with one goal – to preserve and improve their mental and physical health. COVID 19 has made wellbeing tourism even more relevant. Wellness has become a way of living for most of us and many of us wish to extend this type of living to our holidays and explore new ways to enhance our wellness and wellbeing; this includes mental health and physical relaxation, finding inner peace, having a healthy body and spirit and destressing. Therefore, well-being tourism destinations and opportunities are on the rise to attend to these ever-growing demanding markets.
'Hardly mentioned as a tourism category just five years ago, wellness tourism is now recognized as one of the fastest-growing tourism niches, with promises to expand the overall tourism 'pie' while mitigating some of the challenges facing many destinations combating mass tourism and seasonal fluctuations'

(Global Wellness Institute Report)

DETOUR Resource 1
How Regions Can Exploit the Wellbeing Tourism Megatrend
---
Well-being tourism is a megatrend when managed can benefit regions. To keep on top of the wellness trend European businesses, regions and governments are increasingly looking at wellness tourism to diversify their tourism sector, carve out a unique niche, reduce seasonality and bring more benefits to their local communities and small businesses. This resource begins with an overview of wellbeing tourism and explains how European businesses, regions, and governments can innovatively consider, plan, develop, and successfully exploit this sustainable megatrend.
Section 1 Introduction to
Section 2 Introduction to Wellbeing Tourism – A Future Megatrend
Section 3 Wellbeing Tourism & Wellbeing Tourists Defined
Section 4 Wellbeing Tourism as a Megatrend
Section 5 Wellbeing Tourism Megatrend Opportunities Regions Can Exploit
Section 6 Conclusion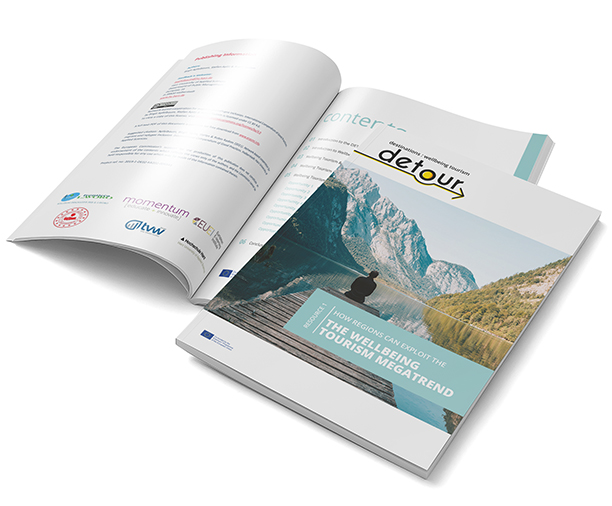 Download "Resource 1"

DETOUR-Resource-1-Wellbeing-Tourism-as-a-Future-Megatrend.pdf – Downloaded 303 times – 52.90 MB
DETOUR Resource 2
Creating a Wellbeing Tourism Destination or Region
---
Every destination has something unique to offer wellness travellers. Wellness Tourism is multidimensional bringing benefits to businesses, communities, and stakeholders beyond the wellness sectors. This resource is designed to assist regions in developing regional wellness destinations focusing on the integration of important tourism players, stakeholders, communities, and government. This resource covers four key sections each with a spotlight on case study examples across European destinations, regions and islands looking at different approaches, strategies and recommended best practices. Examples include supplementary videos, articles, research papers, and applications.
Section 1 Wellbeing Tourism Destination Development
Section 2 Wellbeing Tourism Destination Branding
Section 3 Destination Packaging and Itinerary Building
Section 4 Tourism Destination Digital Placemaking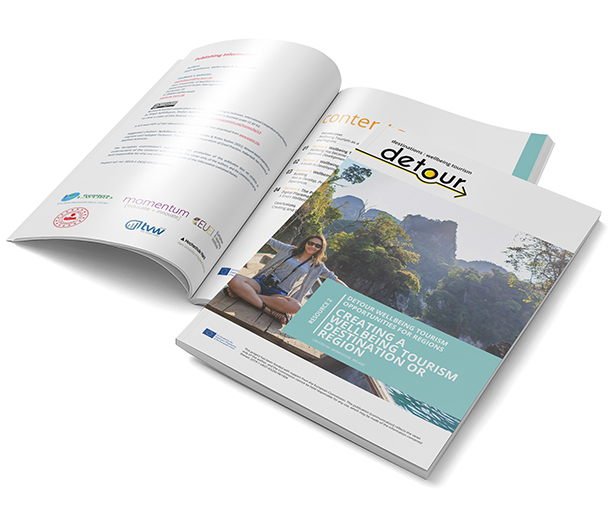 Download "Resource 2"

DETOUR-Resource-2-Creating-a-Wellbeing-Tourism-Destination-or-Region.pdf – Downloaded 284 times – 6.71 MB
DETOUR Resource 3
Creating a Wellbeing Tourism Festival or Event
---
This `Wellbeing Regional Events Best Practice Guide' has been written to provide a source of reference for those planning and organising community, destination or regional festival or event, in the wellbeing tourism context. It is a tool to provide a greater understanding of events and festival management and organisers in terms of planning, managing, financing, and marketing.
Section 1 Festival & Event Management
Section 2 Festival & Event Financing
Section 3 Festival & Event Marketing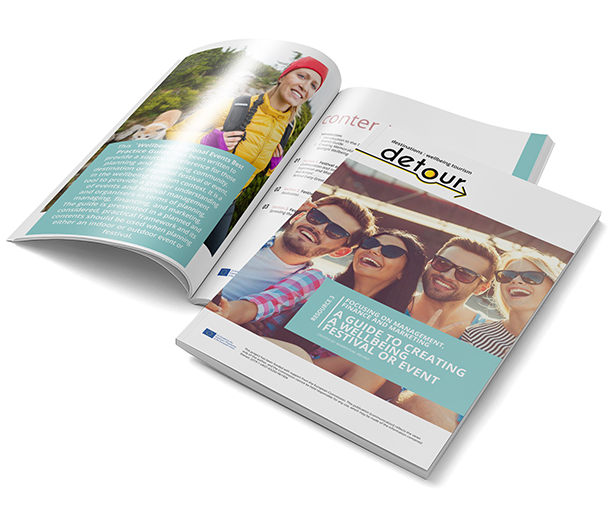 Download "Resource 3"

DETOUR-Resource-3-Creating-a-Wellbeing-Tourism-Festival-or-Event.pdf – Downloaded 212 times – 2.29 MB