SLOVENIA – THE LEADER OF API-TOURISM
---
In 2016, Slovenia was selected as the world's first sustainable destination, that really tells its green story. Slovenians love their green country, so their concern is focused on preserving natural and cultural treasures, among them apitourism.
Apitourism involves the consistent connection of nature and tourism, and follows the trend of travellers demanding green, eco, healthy tourism and wellbeing. As a form of tourism, it deals with culture and traditions of rural communities that could be considered as one of the most sustainable ways of development and niche tourism.
The Slovenian long beekeeping tradition, which legally protects its local breed (Apis mellifera carnica), has achieved admirable synergies between beekeepers, tour operators and local businesses.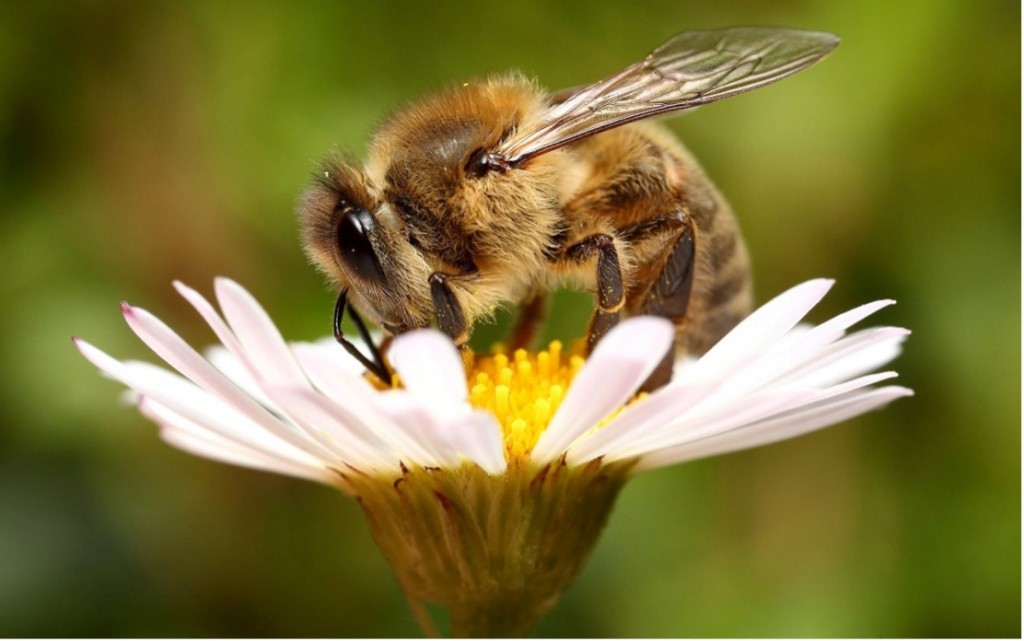 Source: https://www.facebook.com/queencarnica.si/
---
What is apitourism?
Apitourism is an alternative form of tourism inextricably linked to the art of beekeeping and the life of the bee. This particular form of tourism offers unique experiences to tourists directly related with nature. The story about the bee and the synergies of nature, which can be transmitted within a natural landscape in a unique way by a beekeeper, creates an authentic tourist product.
Activities related to api-tourism include visits in apiaries, open-air museums and bee museums where a tourist has an opportunity to observe a beekeeper's work, a method of making honey, its properties and specifics (including tasting different kinds of honey), to find out about other bee products (pollen, wax, bee bread, royal jelly), to watch how bee colony live, to recognize ecological correlation between humans and bees.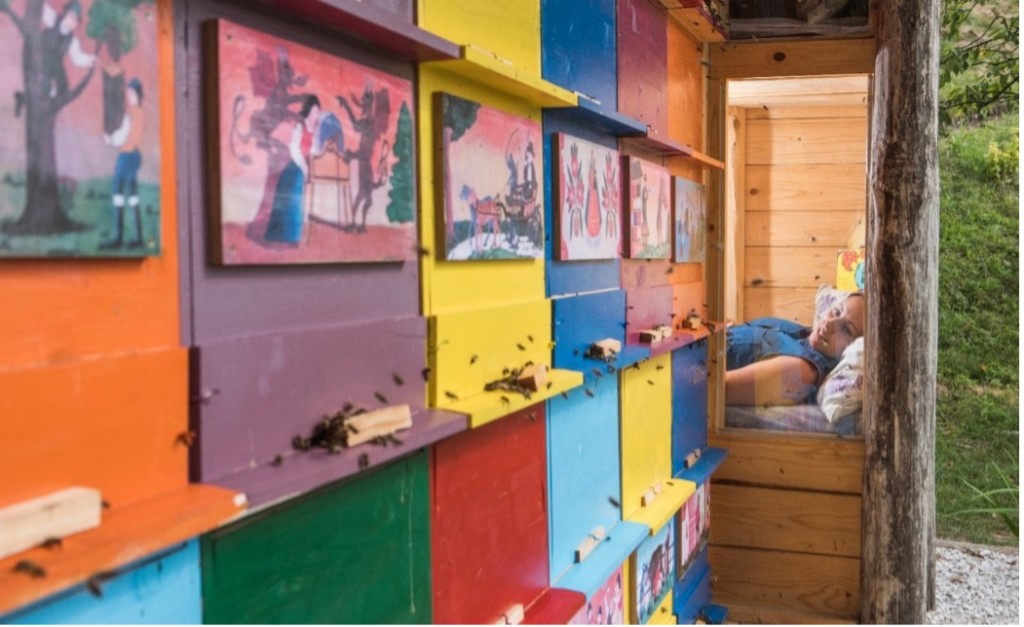 Apitherapy
Source: Slovenia.info (Jošt Gantar)
---
 Api well-being, what does it mean?
Api Well-being is a philosophy and way of life aimed at engendering physical and psychological contentment; it reveals how to strengthen your body, mind and spirit through the knowledge and use of bee products and preparations. With coaching and treatment that integrates the natural and the man-made, Api Well-being programs offer a guide in maintaining one's health and a proper balance in life, as well as developing sincere relationships.
Api experiences, such as inhaling the fragrance of hives in a bee house, taking a bio honey massage, or preparing yourself a natural energy-boosting honey drink are all treatments that work preventative and curative. Benefits to the human body:
A honey massage promotes body's detoxification.
Resting in a beehouse and listening to the buzzing bees soothes and purifies the spirit.
Inhalations in a hive relieve pollen allergies and asthma, as well as increase lung capacity.
A honey facial mask stimulates clear, soft and glowing skin.
Face cream containing bee venom has an anti-aging effect on the skin.
Bee venom relieves and can even eliminate rheumatism-related problems.
The use of propolis in oral hygiene reduces the formation of a biofilm and tartar, as well as prevents periodontitis.
The pure aim is to raise awareness as to the importance of bees to mankind, enrich knowledge about the use and effects of bee products, preparations and apitherapy, and enhance people's well-being.
---
Slovenian Api – routes
Api-Routes provide an opportunity to learn about some unique beekeeping practices and experience Slovenia's rich beekeeping tradition which yields superior honey. Highlights include observations of beekeepers at their work, introductions to apiarian techniques focusing on biodynamic beekeeping which respects the colony's natural integrity, demonstrations of various hive systems, presentations of bee pollen, royal jelly and propolis production, together with seminars on their beneficent effects on health and well-being. In addition to visits to beekeeping museums and typical Slovenian bee houses, which are architecturally unique and of extraordinary appeal.
All regions in Slovenia offer from 1-5 certified providers, which differ according to the location, culture of the region and the tradition of the beekeeping family.
---
Beeland in Mozirje, Slovenia
Beeland is a perfect place for everyone who wish something different and coexistence with nature. The chalets are in the form of a honeycomb. A real magical atmosphere brings the observation of the hard-working bees that are placed near the chalets. Visitors can enjoy the merging of architecture, nature, and wildlife from the outside and within.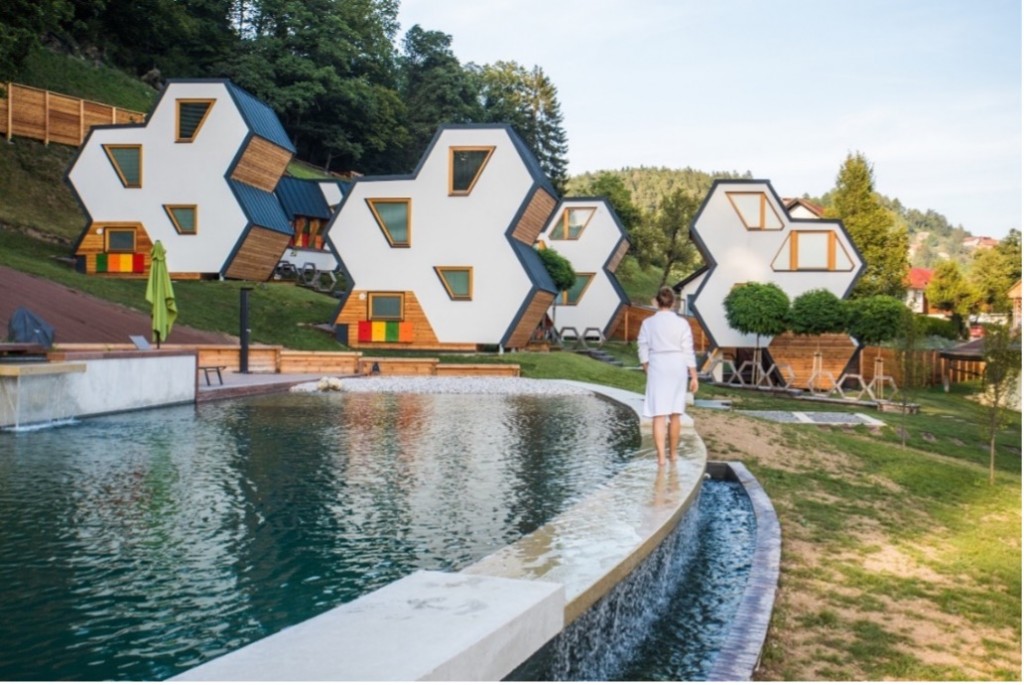 Beeland in Mozirje, Slovenia
Source: https://www.slovenia.info/en/stories/slovenia-s-honeyed-opulence
With such passion – offering various experiences for the visitor, it's no surprise that the Slovenian Beekeeper's Association successfully petitioned the United Nations to proclaim May 20 as World Bee Day, celebrating the importance of honey-bee preservation and boosting the public's awareness of how significant bees are to the food supply.
More at: https://www.slovenia.info/en/stories/celebrate-world-bee-day-with-us
Given these facts, there is an opportunity for Slovenian tourism operators to even further develop api-products into wellbeing options and take advantage of this strong cultural heritage to activate undeveloped rural areas, to create new jobs and to promote a region's culture and tradition and continue serving as an excellent example for other countries.