11 Ways to live well and boost your wellbeing in Scotland
---
Blog by Annierose Knox (January 26, 2021)
https://www.visitscotland.com/blog/scotland/wellbeing-boost/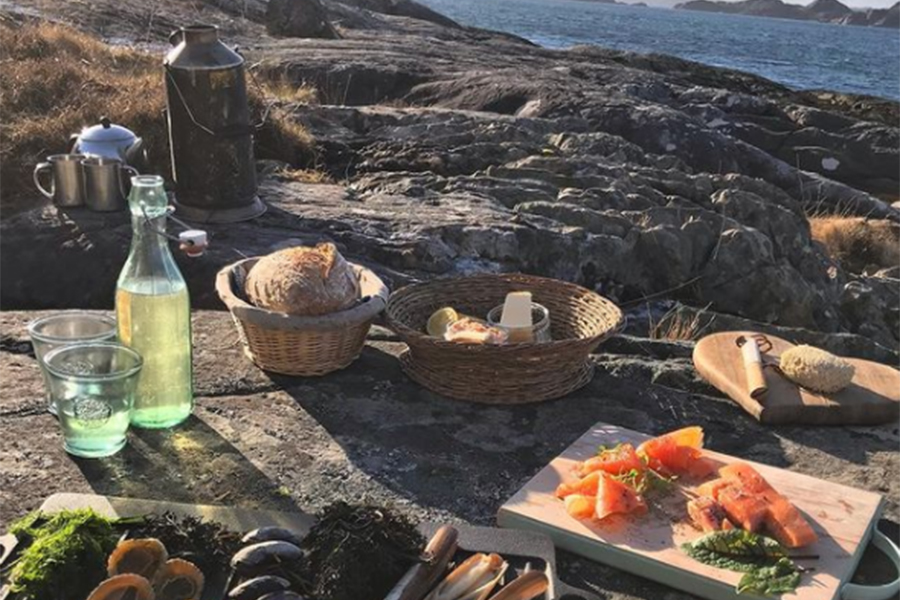 Photo: Wildwood Bushcraft
Our time off from daily life is so important, and now more than ever before. For all of us, factoring in a bit of zen time is the key to finding balance, whatever life throws our way, and the perfect way to rest, recharge and re-energise.
We're living in unpredictable times, so you might be wondering about what your travel plans might look like. From exercise in the fresh air to soul searching in amongst our landscapes, you'll still find your bliss in Scotland.
The majority of Scotland is now under a temporary lockdown, though some island communities are under level 3 restrictions. Please follow any current restrictions – you might need to save these ideas to try later on a future trip.
---
1 EAT SOME HEALTHY LOCAL PRODUCE
Cooking with ingredients you've picked or grown yourself is an unbeatable feeling! If you've been busy making wild garlic pesto or if your windowsill fresh herbs are flourishing, then congratulations! Why not venture out to do some foraging in your area or make some fresh purchases at local markets and outdoor venues or book a delivery to your door? If you love being in nature, you can book a course with Wildwood Bushcraft for a future foraging adventure or buy a gift voucher to use later.
---
2 GO FOR AN INVIGORATING BEACH RUN OR COASTAL WANDER
Our little country is wrapped in thousands upon thousands of miles of coastline and if you're reading this in Scotland, it's quite possible you live close to some of it. Pick up the pace with a walk or jog along one of our beautiful beaches. Why not choose a beach or coastal stroll that you've never done before? Or perhaps a quiet spot away from the crowds so you can have the whole stretch of sand to yourself.
---
3 PRACTICE THE ART OF BEING STILL
Let your senses enjoy the sights, sounds and state of calm beside a loch or waterfall. Take your mat and do some yoga practice or quiet mindful meditation in amongst the nature. If you've been practicing inside your bedroom for the last few months, a beautiful Scottish view will be a refreshing new vantage point.
---
4 PEDAL YOUR WAY TO A PEACEFUL MIND
If you have wheels, wanderlust and a free afternoon, a spellbinding cycle route is a fantastic way to explore Scotland. Just imagine the wind streaming through your hair as you whizz past new Scottish scenes or work your way up challenging hills and along winding paths. Take a picnic and enjoy the feeling of freedom and rush of adrenaline.
---
5 HEAD TO THE FOREST FOR A MOMENT OF QUIET
A Japanese-inspired phenomenon, 'forest bathing' simply means sitting quietly in a forest or woodland and using your senses to mindfully immerse yourself in nature. Scottish woodlands are filled with character and our wise and wonderful trees promise to amaze! Among our trees, you might find yourself gazing up at towering giants exceeding 55 m or remnants of the ancient Caledonian Forest pine trees that date back hundreds of years.
---
6 IT WILL ONLY GO UP FROM HERE
Scotland's mountains and hills have been patiently waiting while all of this has been going on. Is it time for your big return to hiking? If so, why not brush the dust off those hiking boots and spend a day out in the fresh air? Why not tick a Corbett, Munro or Graham off your summer ambitions list?
---
7 DISCOVER THE JOYS OF WILD SWIMMING
Fancy a dip? Go for a swim in one of our sheltered lochs – wild swimming is one of the best ways to stay in shape. There are many smaller, sheltered lochs or bays which are suitable, just be conscious of safety and go with a friend. Remember to follow the Scottish Outdoor Access Code guidance for swimming and when crossing land to reach the water, avoiding areas with water traffic or hydro schemes.
---
8 GO WHERE THE WILD THINGS ARE
What could be a better stress buster than being at one with nature and getting to know our wildlife? There are a few ways to achieve this during the current climate, including planning a visit to a wildlife park when they reopen. See if you can identify some birdies on your walks or watch out for marine mammals as you explore the coasts. Bottlenose dolphins, porpoises and orcas can be seen in several spots in the summer, if you're lucky.
---
9 SEE SCOTLAND THROUGH YOUR CAMERA LENS
Getting out and about with your camera or smartphone is something you might find yourself doing a lot more lately. It's a great way to get outside in the fresh air, and there's always something interesting to capture in Scotland, from a wildlife moment to skies of vivid colours. Why not try exploring your area first thing in the morning or during 'golden hour' just before sunset to get a different shot for your camera roll? Be inspired by some of our favourite photography moments, including 12 Stunning Photos of Scotland in Spring or 12 Amazing Photos of Scotland's Coasts.
---
10 INTRODUCING… YOUR INNER ARTISTE
Take your sketchbook or canvas outdoors and interpret Scotland in your own artistic style! Scotland is your perfect muse, with moody landscapes or quirky buildings waiting to grace the pages of your sketchpad. Make a start with some inspiration from our drawing series and tutorials. Take your new hobby to the next level and plan a painting holiday or purchase a piece of Scottish art.
---
11 RECONNECT WITH THE LAND AT A SCOTTISH FARM
Ah yes, the Scottish countryside! There's plenty to do at farms across the country, with fruit-picking, Highland coo spotting, farm tours and all sorts of amazing produce to purchase, not to mention the fresh country air to make you feel revitalised! Here are some farm experiences to enjoy when the time is right.
When you're out and about, please remember to follow the outdoor access guidelines. Please always be a responsible visitor and leave no trace behind.